Experience design firm Eight Inc. has designed a flagship gym experience for digital fitness startup, Keep.
Following a period of rapid growth, Keep recognized the needs of its 185 million maturing users were evolving. With Keepland, Eight Inc. has imagined an exciting, active world where the physical and digital combine to form a mono-channel experience. This experience offers users seamless new ways to follow expert fitness guidance and connect face-to-face with like-minded users.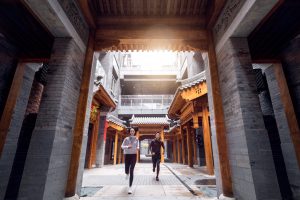 "The future of commerce is not omnichannel but mono-channel. The omnichannel approach is old news. Today we are not thinking in physical and digital, it should be a holistic mono-channel experience." – Tim Kobe, Founder and CEO, Eight Inc.
The fitness economy in China is on track for a boom with app creators running to take the lead. China's sports and fitness market was worth $216 billion in 2016 and by 2025 should exceed $725 billion, according to a report published by The Economist and sponsored by the Chinese sportswear giant Anta Sports.
Located at landmark Qianmen development Beijing Fun, the Keepland experience is focused around two materially and visually distinct zones—Community and Workout. Inside the atmospheric, LED-lit Workout zone, users can follow the coach's moves closely on multiple screens. Results are later relayed into the Community Zone, where friends can discuss performance over a refreshment as they relax post-workout. By hosting a range of workshops and meet-ups, this flexible zone allows Keep's online community to further extend and develop offline.
"Keepland perfectly complements the digital app that has made Keep so successful, making for a complete fitness experience with a strong social aspect. In bringing together data, technology, content, brand and the physical environment, it offers Keep's community of like-minded individuals a seamless way to take their passion to the next level." – Alan Lin, Managing Director for China, Eight Inc.
With a rapid rollout across China anticipated, Eight Inc. has taken a modular approach to all wall panels, fixtures and furniture that can scale and adapt to different sizes of environment. The firm has also used architecture, materials and wall graphics to reflect and amplify the Keep brand culture throughout.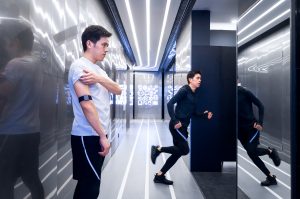 Keepland fully integrates Keep's digital capabilities into the physical environment. Users browse and sign up for classes using the digital app. On arrival, they are met not at the traditional desk, but at a sign-in wall where they scan a QR code before collecting their heart-rate monitor. After their workout, they can connect and follow each other's results on the app, as well as on Keepland's multiple screens.
Since it launched in 2015, Keep's digital app has galvanized an active community of 185m users around the idea that 'self-discipline creates true freedom', providing them with a hub where they can connect and express themselves online. The company's rapid growth has seen it become a major influencer and contributor to the rising awareness of life quality in China.
Eight Inc. is a global creative collective that specializes in designing innovative, integrated human experiences. Its 200+ business creatives and strategic designers collaborate across 11 studios, 7 time zones, and 3 continents. The firm celebrates its 30th anniversary this year.
Facebook Comments