Anda termasuk orang yang kesehariannya bekerja dengan duduk di depan komputer? Hati-hati, duduk terlalu lama dapat mengakibatkan rasa kaku dan nyeri otot pada bagian seperti leher dan punggung. Jika berlangsung terlalu lama, akan mengganggu kesehatan Anda.  Ada baiknya jika anda beristirahat sejenak untuk melakukan olahraga ringan yang rutin seperti stretching untuk mengurangi resiko kaku dan nyeri otot tersebut.
Bingung bagaimana memulainya? Anda dapat mencoba langkah-langkah berikut untuk melakukan olahraga ringan tersebut.
1. Warm Up
Sebelum melakukan stretching, ada baiknya jika Anda mulai dengan melakukan pemanasan terlebih dahulu.
Caranya mudah, Anda hanya perlu duduk di kursi sembari meregangkan jemari-jemari Anda. Buatlah gerakan melingkar pada pergelangan tangan dan kaki Anda, kemudian lanjutkan dengan peregangan leher dengan menariknya ke arah dada anda.
2. Side Neck Stretches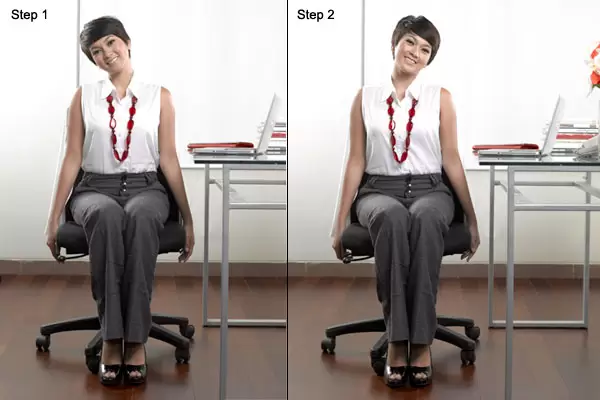 Fungsi dari latihan ini adalah untuk meregangkan otot leher supaya tidak kaku dan nyeri. Anda hanya perlu duduk tegak pada kursi, kemudian memiringkan leher anda ke kiri atau ke kanan dengan perlahan dan tahan selama kira-kira 10 detik. Gerakan ini dapat anda ulang beberapa kali.
3. Shoulder Shrug


Bahu dan pundak merupakan bagian tubuh yang sering terasa kaku dan nyeri, terutama Anda yang pekerjaannya menuntut untuk terus-menerus duduk di depan komputer. Selain bahu dan pundak, gerakan ini juga bermanfaat bagi bagian leher.
Yang anda perlu lakukan adalah duduk tegak lalu angkat bahu Anda ke atas hingga mendekati telinga, kemudian tahan sekitar 3-5 detik, dan turunkan kembali ke posisi normal. Gerakan ini dapat diulang 2-3 kali, atau lebih dari 3 kali jika Anda sering merasa pegal di bagian bahu atau pundak.
4. Backside Stretch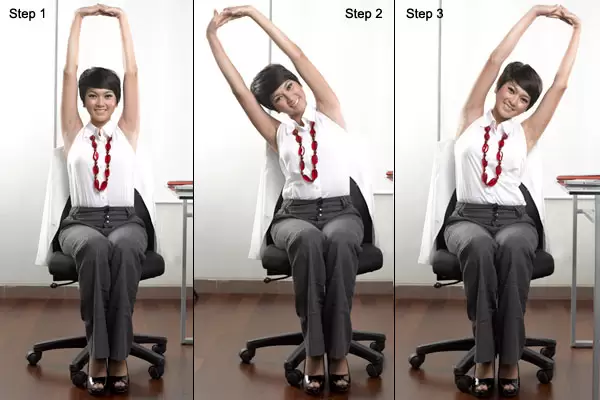 Gerakan ini dapat mengurangi rasa pegal dan kaku untuk daerah bahu, punggung, serta leher akibat terlalu lama duduk di kursi.
Lakukan gerakan ini dengan duduk tegak sembari mengangkat kedua tangan dengan telapak tangan saling terkait lurus ke arah atas, kemudian miringkan ke kiri atau kanan secara perlahan. Frekuensi gerakan ini dapat dilakukan berkali-kali, terlebih jika Anda sering merasakan pegal atau kaku di punggung.
5. Middle Back Stretch


Latihan ini berfungsi untuk meregangkan bagian lengan serta bahu.
Sambil duduk tegak di kursi, pegang siku kiri dengan tangan kanan dan gerakkan lalu dorong perlahan siku ke arah pundak kanan. Tahan selama 5 detik, lalu ulangi untuk siku sebelah kanan. Gerakan ini juga dapat Anda ulangi beberapa kali.
 6. Back and Leg Curl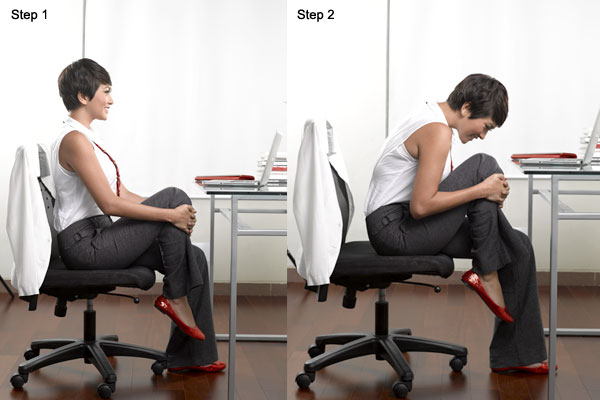 Peregangan otot lutut dan paha juga penting untuk dilakukan terutama Anda yang kesehariannya dihabiskan dengan duduk di kursi. Lakukan gerakan ini saat duduk di kursi, pegang kaki kanan di bagian depan betis lalu angkat perlahan sambil ditekuk dari permukaan lantai dan tahan beberapa detik. Ulangi juga untuk kaki kiri Anda.
7. Leg Lift


Gerakan ini berguna untuk meregangkan bagian otot paha dan betis anda.
Anda perlu duduk tegak di kursi Anda, sembari perlahan-lahan mengangkat sebelah kaki Anda sembari memastikan posisi kaki anda lurus ke depan. Ulangi juga untuk kaki yang sebelahnya lagi.
8. Chair Sit to Stand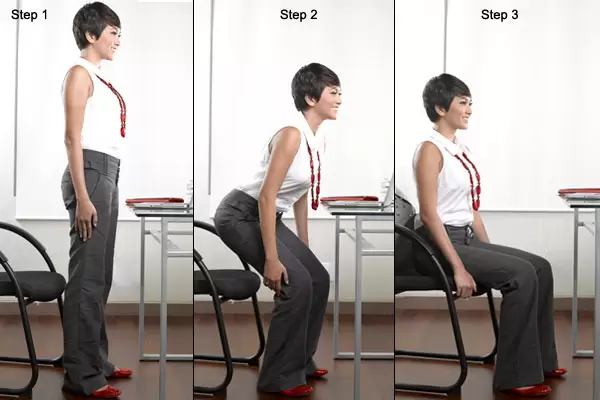 Gerakan ini tergolong gerakan yang paling mudah dari latihan-latihan di atas. Yang perlu Anda lakukan hanyalah berdiri dari kursi lalu duduk tegak kembali sambil mengulang-ulang gerakan ini beberapa kali. Gerakan ini berfungsi untuk meregangkan otot kaki secara keseluruhan dan melatih keseimbangan tubuh Anda.
Tidak sulit untuk melakukan olahraga ringan di atas selama Anda berada di kantor, bukan? Anda tidak perlu menghabiskan uang atau waktu demi fitness, olahraga ringan ini juga dapat Anda lakukan sembari bekerja.
Sebagai alternatif lain, Anda juga dapat membawa alat olahraga Anda sendiri seperti dumbbell untuk melakukan gerakan menekukkan lengan sembari menggenggam dumbbell tersebut, atau mungkin mengganti kursi anda menjadi Fitness Ball. Bola sebagai pengganti kursi ini akan membuat anda melakukan usaha ekstra untuk bisa duduk dengan nyaman sembari bekerja di depan komputer, sehingga mau tidak mau Anda akan tetap bergerak sehingga tidak mudah merasa kaku atau nyeri otot.
Selamat mencoba!
Facebook Comments