The Standard Chartered Singapore Marathon (SCSM) marks its return this year as a World Athletics Gold Label Race for the first time since the pandemic. The three-day festival, which hosts the International Elite Race and the Singapore National Championships will take place from 1 – 3 December 2023, and is expected to draw up to 50,000 participants. The SCSM 2023 International Elite Race will feature some of the world's top long-distance runners, as well as top Singaporeans vying for the honour of being crowned national champion at marathon and half marathon distances.
To ensure that participants and spectators have the most enjoyable experience, the running route will include iconic landmarks through the city. More details on the route and road closures will be confirmed closer to the event. Speaking on the launch, Jeff Edwards, Managing Director of Asia for the IRONMAN Group, said, "The positive feedback and success from last year was extremely encouraging, and we, along with our partners are focused on making the 2023 race experience even better. This commitment to improve reflects this year's theme, 'Our Race to Go Beyond', which aims to encourage the community to surpass their own expectations and push their boundaries. Enhancements are in the works not just to the routes, but the overall experience to really go beyond previous expectations. We're building up event festivities and initiatives to better engage the running community in Singapore and further promote a positive running culture. Apart from the return of the Elite Race, we also have several initiatives planned along the course to provide memorable experiences for runners, spectators and the overall community." Patrick Lee, Cluster CEO, Singapore and ASEAN Markets (Malaysia, Vietnam, Thailand and representative offices), Standard Chartered said: "We're proud to be the title sponsor of The Standard Chartered Singapore Marathon for over two decades. It is one the most prestigious races in the region and Singapore's marquee running event. With the return of the World Athletics Gold Label and the National Championships, we look forward to seeing the best international and local long-distance athletes return to the start line this year. At the same time, the Standard Chartered Singapore Marathon is a race for everyone – bringing people from all walks of life together to stay active and lead a healthy lifestyle, while binding our community through the shared values of resilience and determination." Keith Tan, Chief Executive of the Singapore Tourism Board, said: "The Standard Chartered Singapore Marathon, with its world-class athletes and race organisation, continues to set Singapore apart as a leading destination for sports tourism in the region. SCSM is a key highlight in Singapore's sporting calendar, and I am confident it will offer a fulfilling experience for both locals and visitors against the backdrop of our vibrant city."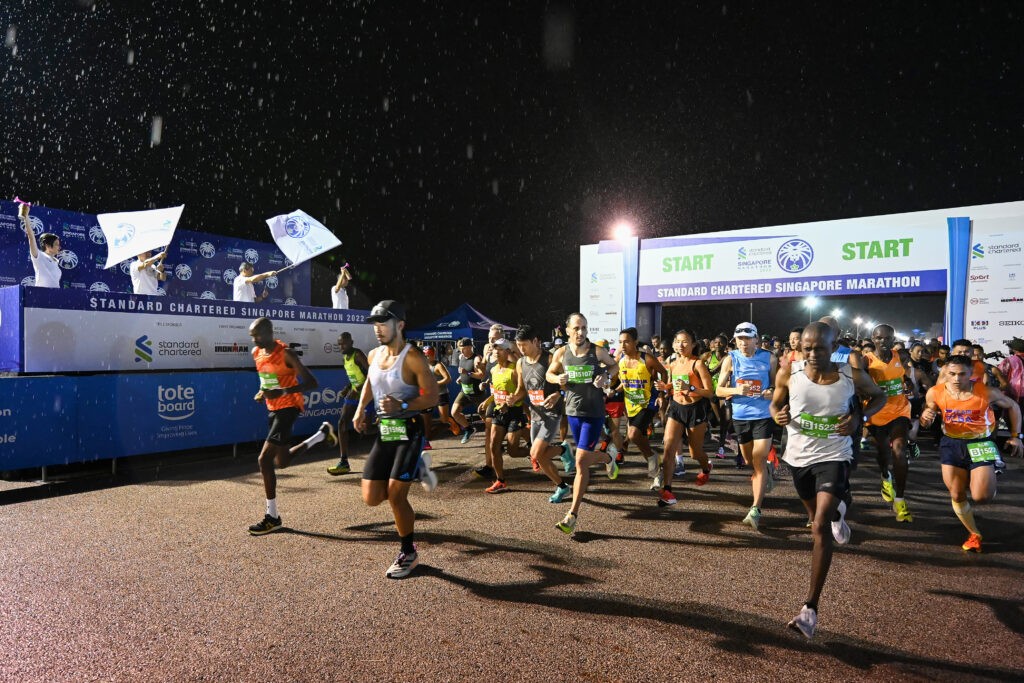 Similar to last year's edition, participants will also be able to sign up for the Double Up Challenge, as well as the SCSM TCS Corporate Challenge. For the Double Up Challenge, participants can choose to register for either the 5km or 10km category, combined with a half marathon 21.1km or marathon 42.195km. Upon completion, they will receive their respective event finisher medals and an exclusive Double Up Challenge medal. The SCSM Corporate Challenge will also be taking place this year. Corporate rates are available for companies who wish to participate in SCSM2023.
Organisers, The IRONMAN Group, have also announced the return of the Singapore National Championships, which will see Singapore's top national athletes compete in the marathon (Open and Masters categories) and half marathon. Each category is limited to a field size of 15 male and 15 female athletes.
To qualify and compete for the prize purse, athletes must be a current member of a Singapore running club affiliated with Singapore Athletics and must have had achieved their respective category's qualification timing in a World Athletics or National Federation sanctioned race from 1 January 2022 to 31 October 2023. Male athletes running in the marathon category will need to have a timing of 2hrs 45min 00sec or less, while the female athletes will have to achieve a timing of 3hrs 15min 00sec or better.
For the Masters' category, the qualification timing is 3hrs 00min 00sec or less for male athletes and 3hrs 30min 00sec or less for female athletes.
For the half marathon category, male and female athletes will need to have an official timing of 1hr 15min 00sec and 1hr 30min 00sec or less respectively, within the same qualifying window period. Registration for the National Championships will commence from 27 April and ends on 31 October 2023. All qualifying times submitted will be subject to review and verification, and not all qualifiers will be automatically accepted nor guaranteed entry.
Lien Choong Luen, President, Singapore Athletics (SA) said, "We are excited to be working with the IRONMAN Group once again to bring back the National Championships at SCSM this year. We look forward to witnessing our top athletes competing for the coveted title of national champion, whilst also allowing local runners to experience what it's like to compete among elites at the region's marquee event. Beyond the National Championships, we are also looking forward to delivering a race experience that engages the local running community, including community activations supporting the Kids Dash, 5km and 10km events."
Alan Goh, Chief Executive Officer at Sport Singapore shared: "We are pleased to see the return of both international and local elite racing at SCSM. This is a testament of the SCSM's reputation as a world- class event for both professional and recreational runners. According to our annual National Sports Participation Survey, running consistently ranks as one of the most popular sports among Singaporeans. Besides elite athletes competing for a podium finish, we look forward to seeing families, friends and running interest groups out in numbers during Singapore's largest running event. SportSG will continue to work with our many partners to make sporting events in Singapore unique and an enjoyable experience for all participants and spectators."
The three-day event will kick off with the Kids Dash on Friday evening, followed by the 5km and 10km on Saturday morning, while the marathon and half marathon categories will flag off on Sunday morning.
Priority registration for SCSM2023 will be open from 26 April at 10.00am Singapore time for SCSM 300KM Club runners as well as marathon participants of SCSM2022. Tier 1 pricing for the marathon, half marathon, 10km, 5km and Kids Dash are $113, $95, $76, $58, and $38 respectively. Public registration, as well as registration for the Kids Dash will begin on 27 April at 10.00am Singapore time. In addition, Standard Chartered cardholders will enjoy a 15% discount off registration fees.
To register and for more information, please visit https://singaporemarathon.com.
---
Like this?
Share it:
AsiaFitnessToday.com The Standard Chartered Singapore Marathon is back as a World Athletics Gold Label Race is licensed under a Creative Commons Attribution-ShareAlike 4.0 International license. Quote Source: https://www.asiafitnesstoday.com/the-standard-chartered-singapore-marathon-is-back-as-a-world-athletics-gold-label-race
Facebook Comments