Global sports brand PUMA and today's most sought-after creative artist collective KidSuper Studios will release their first collaboration this week. The collection takes inspiration from PUMA's football heritage and KidSuper founder and designer Colm Dillane's past as a football player – working to combine the energy and unbridled passion of football with the creativity and innovation of art.
KidSuper Studios is a creative artist collective in Brooklyn, New York. Founded by designer Colm Dillane, this circle of creators transforms streetwear and accessories with fresh takes on style, art, music, and sport – all from their studio in NYC. The PUMA x KidSuper Studios collaboration is about combining the love, passion and team chemistry of football to the uniqueness, innovativeness and energy of the art world. 
"The PUMA collaboration was natural, I always looked to football for inspiration for all products," said Colm Dillane. "But what I was mostly inspired by was PUMA's history, that's what was so special about this collection, collaborating with a brand that has over 70 years of product design – you can't beat old images of Pele winning a World Cup in PUMA cleats, that is inspiration. I want to create a brand that can have an equal positive effect on iconic moments."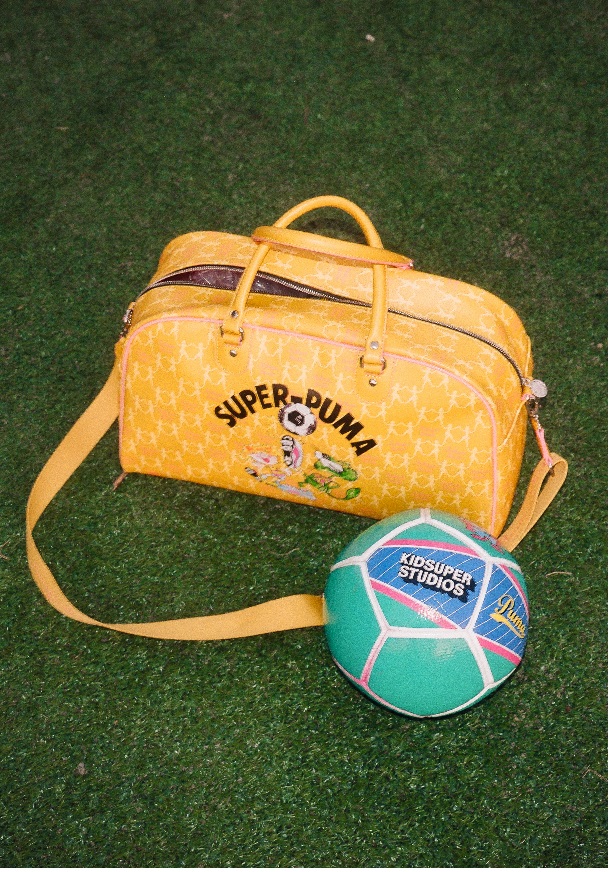 The collection stands out with retro tailoring, bold prints, vivid color combinations, and "KidSuper Studios" signature doodle aesthetics. Key styles from the collection include a tailored jacket and pants, graphic t-shirts, jerseys, track jackets, sweatshirts, accessories, sneakers and more.
Hand drawn football sketches are used in an all-over graphic print for the PUMA x KidSuper Tailored Jacket and Pants. The jacket includes a 2-button, single-breasted closure, breast pocket, and patch pockets on front for storage solutions. The pants have front slip pockets and a back-welt pocket for storage solutions with an elastic waistband with belt loops for customized comfort. This football inspired collection would not be complete without a PUMA x KidSuper Football Jersey, available in a brightly colored striped version with dove sketching overlays and a more subtle, black striped version.
The footwear in the collection features an unfinished look with raw edges, exposed foam, and zigzag stitching and seams. Colorful accents come from a mix of prints, doodles, and embroidered elements in a retro, multi-colored palette. PUMA's Style Rider, Nitefox, Cell Dome Sock, Oslo City, and Wilo were all given the KidSuper treatment.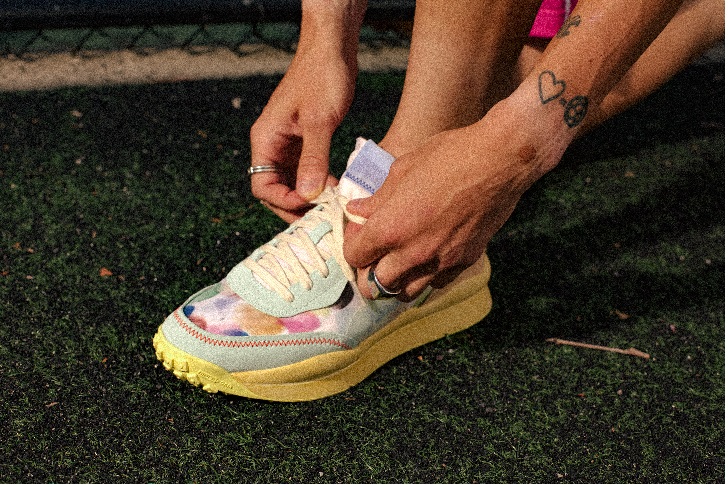 To support the release of the collection, KidSuper Studios in partnership with PUMA created a limited animated series called "SCRAM." Featuring Usain Bolt, Héctor Bellerín, Jessie Reyez, Meechy Darko, Lolo Zouai, West Side Gun, and Lil Tecca, the 7-episode series tells the story of three New York City kids in their adventures through the city. Their lives change when they explore a secret laboratory below their neighborhood bodega, the kids are unknowingly exposed to superpowers, which they will need to figure out how to use. For an exclusive preview, visit: https://youtu.be/tFQz-57wqII – the series premiered on September 16th on KidSuper Studios' YouTube channel.
The first collaboration between PUMA and KidSuper dropped on PUMA.com and at PUMA KLCC, PUMA Sunway, PUMA Genting, PUMA Midvalley as well as selected retail stores on September 17, whereas PUMA Pavillion will only launch the collection in December 2020. The collection launched with a price range of RM199 to RM759. 
Facebook Comments