– Advertorial –
Sports and Fitness Taiwan, also known as TaiSPO, is being organised by the Taiwan External Trade Development Council (TAITRA) and is scheduled to take place at Hall 2 of Taipei Nangang Exhibition Center from March 6 to 9, 2024. This highly anticipated exhibition will showcase a wide array of sports, fitness, and outdoor leisure products, bringing together manufacturers, service providers, and brand operators from both domestic and international markets.
TaiSPO holds a prominent position as the industry's leading B2B exhibition and sales platform, facilitating interactions, communication, and collaboration among sports and fitness industry players, while also enabling them to enhance their market presence. Exhibitors are encouraged to take advantage of the early bird discount, which will be available until September 30 this year. We cordially invite businesses to register for this remarkable event. TaiSPO holds the distinction of being the longest-running sports and fitness industry exhibition in Taiwan. Following the lifting of pandemic-related border restrictions in 2023, the first exhibition drew an impressive turnout, with over 1,200 international buyers from 61 countries and more than 6,000 domestic visitors. In fact, the overall number of visitors surpassed pre-pandemic levels, experiencing an impressive 80% growth. This surge in popularity clearly indicates the positive reception of TaiSPO's strategic decision to expand horizontally across industries and seamlessly integrate both soft and hard elements.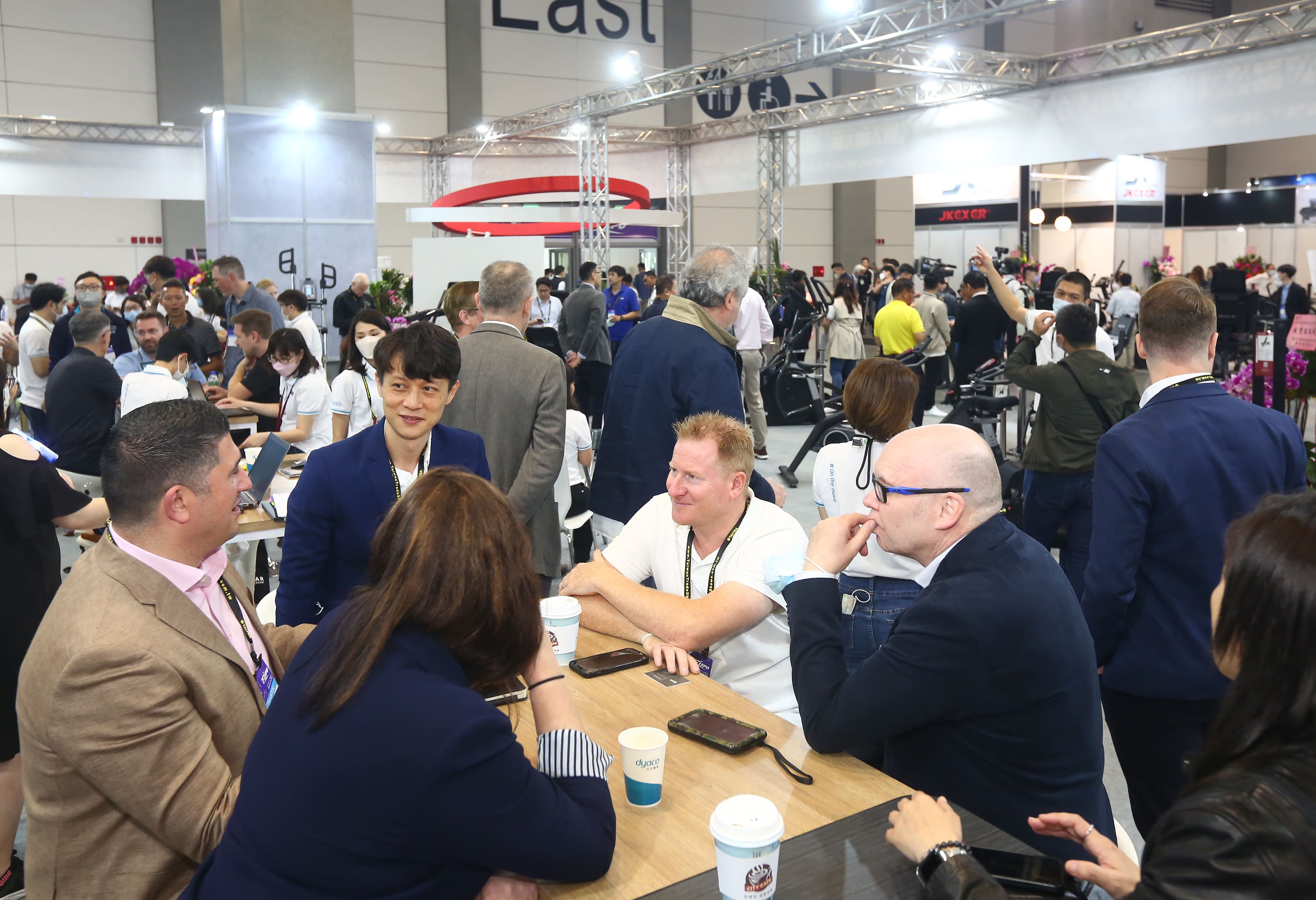 Building on the success of the previous year, TaiSPO in 2024 will showcase a captivating lineup featuring three exciting themes: "Dynamic Fitness Society", "Alternative Leisure Lifestyle," and "Sports Tech Next Level". These themes aim to highlight the diversity within the sports and fitness industry, the array of outdoor lifestyles available, and the boundless potential that technology brings to the sports ecosystem. To enhance the visual experience, the exhibition will introduce a fresh visual concept, incorporating the vibrant colors of "Energetic Light" and "Blue Ocean" that intertwine seamlessly. This choice of colors symbolises the dynamic change in body temperature during exercise. Moreover, polygonal lines will be employed to depict the multifaceted interactions between industries, underscoring the collective empowerment and growth within the sports and fitness sectors.
According to the Global Wellness Economy report, the global sports industry is projected to surpass a staggering value of US$1.1 trillion in 2023, with the Asia-Pacific region emerging as a key driver of high growth. The sports industry has witnessed a significant transformation due to the integration of cutting-edge technologies like the IoT and AI. To align with evolving industry trends and expand market presence for sports industry players, TaiSPO is poised to continue its transformative journey in the upcoming year, 2024. In addition to the existing seven sections encompassing "Indoor Fitness," "Outdoor Sports," "Water Sports," "Health and Sports Fashion," "All Age Fitness," "Sports Tech," and "Sports Marketing and Services," new sections will be introduced to enhance the diversity of the exhibition. These new additions include "Intelligence Sites," "Golf," and "Glamping."
By incorporating forums, lectures, group activities, and outdoor experiential opportunities, TaiSPO will once again serve as an annual platform for professionals within the sports and fitness industry to engage, establish networks, and discover the finest domestic and international sales channels and partnerships for Taiwanese businesses.
TaiSPO 2024 is scheduled to take place at Hall 2 of Taipei Nangang Exhibition Center from March 6 to 9, 2024. Registration for the event will open on July 10th. For detailed information about the exhibition, please visit the official website: https://www.taispo.com.tw
---
Like this?
Share it:
TaiSPO 2024: Unlocking Business Opportunities in the Sports and Fitness Industries is licensed under a Creative Commons Attribution-ShareAlike 4.0 International license. Quote Source: https://www.asiafitnesstoday.com/taispo-2024-unlocking-business-opportunities-in-the-sports-and-fitness-industries/
Facebook Comments