First of all, let us be clear – Babel is not a gym although you can be forgiven for thinking it is so. The health and wellness club commemorated its grand opening at the iconic KLCC recently with the theme "Carnival in the Jungle".
Now, before you start thinking "not another stupid idea for a theme" let me explain why this in itself is a stroke of genius. One, Babel KLCC is located smack in the middle of the concrete jungle. Yes, there are parks nearby but nevertheless it's still right in the middle of Kuala Lumpur's city centre.
Second, Babel brings nature to you. Honest to goodness when you're in the gym, walking on that treadmill, that plant you see in front of you is not plastic. Those are real-life plants that are taken care of by Babel's own botanist. How's that for the extra shot of oxygen while you work out?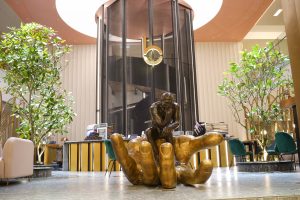 Meanwhile, Babel's shower and locker area could entice you to stay there forever. Aside from the awesome infrared sauna or the shower cubicles kitted out with Good Virtues Co. products, it is simply the dressing area that makes you feel at home. Honestly, if there was a bed installed I would probably never leave. Or maybe I just want to luxuriate my hair with those Dyson hairdryers.
Ok, despite looking ultra expensive and unaffordable, Babel KLCC's fees are actually surprisingly manageable. This is in consideration of its location, design and the classes offered at the centre.
There are a multitude of classes offered at the centre, beginning at 7am until 9.30pm. Classes offered ranges from HIIT to Animal Flow to Suspension, a body weight exercise. Click here to find out more about their classes.