25,000 children and youth to benefit from their involvement in rugby for development programme ChildFund Pass It Back

More than 1.8 million tickets sold, with 50 per cent increase in opt-in ticket donations in a powerful show of support

Over 

£

2 million pledged to ChildFund by global rugby community, including worldwide fans, RWC worldwide partners and merchandise operator
Most impactful Impact Beyond programme in Rugby World Cup history
The first ever Rugby World Cup to be held in Asia will leave a lasting legacy for tens of thousands of children from developing communities in the region, as part of World Rugby's Impact Beyond programme.
Thanks to the incredible generosity of the global rugby family, the award-winning rugby for development programme ChildFund Pass It Back will now be expanded to six countries in Asia, giving more than 25,000 children the chance to play, learn and grow through their involvement in rugby.
In addition, donated funds will support emergency relief activities in Japan, with ChildFund and its partners operating in accordance with government authorities to provide assistance to communities recently impacted by the devastation caused by Typhoon Hagibis.
World Rugby Chief Executive Brett Gosper said: "Rugby World Cup Japan 2019 has proven to be a very special tournament in every way.
"It has demonstrated the best of rugby and Japan, characterised by family, community and solidarity off the field, and compelling, world-class sport on the field, engaging new fans in record numbers.
"With more than 1.8 million tickets purchased, we have seen a 50 per cent increase in opt-in donations to ChildFund, surpassing any tournament in history.
"Coupled with the support of our worldwide partners, more than £2 million has been pledged to a programme that will support some of the most vulnerable children and young people in Asia."
Japan 2019 has already been a breakthrough event with record-breaking levels of game attendance, broadcast audience numbers, and fan engagement across social and digital media.
The pool stage and quarter-finals showcased the best of Japan and the best of rugby on and off the field, with some unexpected results and outstanding performances set to generate many edge-of-the-seat moments for fans watching the upcoming semi-finals and finals.
ChildFund CEO Nigel Spence said: "It has been an incredible privilege to be a part of this global sporting event, and we are humbled by the extraordinary support shown by the global rugby community.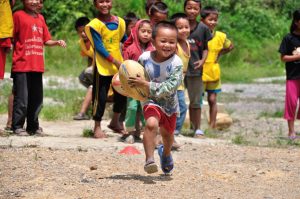 "The Rugby World Cup may soon be coming to an end, but ChildFund's work to improve the lives of vulnerable children in Asia will continue, boosted by the support from the rugby family.
"Not only will these young people have the opportunity to play the game we all know and love, but they will learn valuable life skills, drive positive social change, and have the potential to break the cycle of disadvantage in their communities."
In the coming years, ChildFund will continue to partner with Asia Rugby and World Rugby to bring ChildFund Pass It Back to children and young people across Asia.
Ross Mitchell, Asia Rugby's General Manager, said: "We are excited to be continuing our work with ChildFund and building a new generation of rugby players in the region.
"Together, we can ensure that more girls, children from developing communities, and young people living in rural and remote areas have the opportunity to benefit from the transformative power of sport."
For more information on the ChildFund Pass it Back programme, visit www.childfundpassitback.org
Facebook Comments