History was made at the Coway Run 2022 where NFT masterpieces were created with the help of participants in support of a charitable cause
Coway, the Best Life Solution Company held its first-ever hybrid Coway Run 2022 with a roaring success as it saw over 8,000 participants running both virtually and physically towards a healthier lifestyle. The run saw participants united as one to create art, in line with its theme – Unite to Create. The virtual run kicked off from 1st October to 6th November while the physical run took place on 6th November from 6am to 10am at Dataran Putrajaya, with two categories of either the 6km Fun Run or the 10km Competitive Run. Winners of the 10km Competitive Run took home a total of RM18,000 in cash prizes.
Coway also made history and created the brand's first-ever NFT artwork with the on-ground runners during the event. This 6th edition of the Coway Run saw the virtual run participants submitting their GPS running trail art and the most creative masterpieces were turned into unique NFT art pieces by local NFT artists Alvin Koay, Book of Lai, Grey Z and Lakarumbi. All NFT artworks were then put up for a charitable auction where proceeds were given back to the communities in need with the hopes of changing lives for the better via Coway's NGO partners and the company's Corporate Social Responsibility (CSR) initiatives.
The four non-governmental organisation (NGO) partners comprised EcoKnights, MERCY Malaysia, Reef Check Malaysia and the Nicol David Organisation. Not forgetting Coway's very own CSR initiative – Happy Water Project that aims to provide access to clean drinking water for the Orang Asli and underprivileged communities.
"I am beyond impressed by the passion and dedication shown by our participants, it was such an inspiring sight to see so many of us running united as one. A huge thank you to all who signed up and also to those who sent in their GPS route maps for the NFT. You did not just run for health but you also ran for a good cause by giving back to society and those in need through the NFT artwork auction. Together, we can do more for the communities in need and I hope more will join us in future to give back to society," said Kyle Choi, Managing Director of Coway Malaysia.
He added that Coway is committed to supporting the Sustainable Development Goals (SDGs) set by the United Nations (UN), covering clean water and sanitation; good health and well-being; gender equity; quality education; life below water and life on land. Doing our part as corporate citizens, partnering with experts and NGOs from respective fields, to create a better living environment for our future generations.
During the physical run, the team from home-grown creative art brand, Loka Made, known for creating Malaysian-inspired art led the participants in painting a huge canvas with vibrant colours. The canvas was then revealed to be a landscape comprising various Malaysian landmarks including the iconic Perdana Putra, the Leaning Tower of Teluk Intan in Perak, the Colourful Colonial Houses Of Georgetown in Penang and others.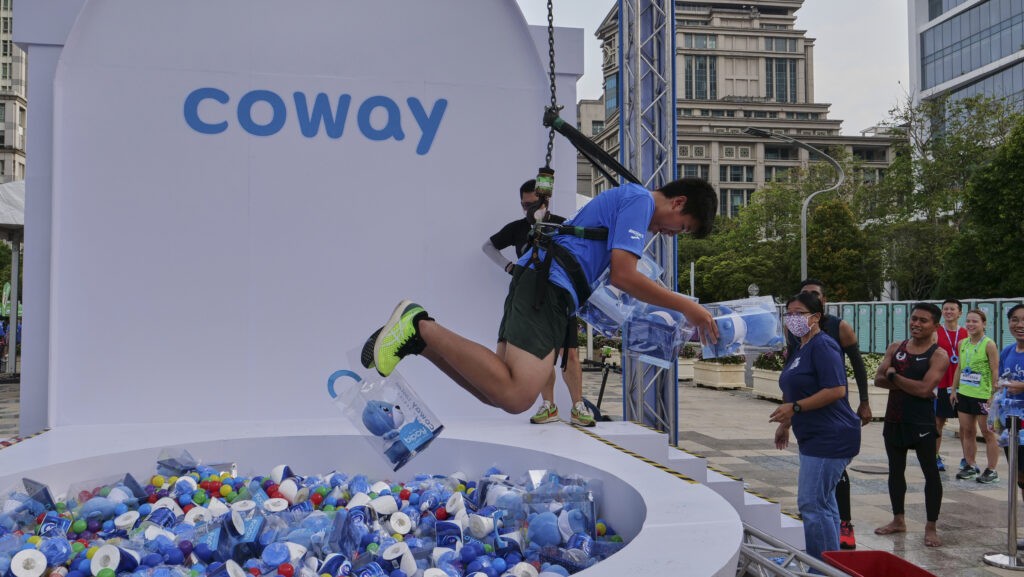 Those participating in the virtual run were also able to discover Malaysia's iconic landmarks as digital badges were unlocked as they ran and completed milestone challenges. The digital badges were designed based on Malaysian landmarks as seen on the canvas. Unlike the physical run, there was no distance limit to the virtual run and participants literally ran to their hearts' content. Numerous personal boundaries and records were broken and achieved and this was reflected in the number of digital badges unlocked. For more details on Coway Run, visit www.cowayrun.com.my
---
Like this?
Share it:
Coway Run 2022 United Malaysians to Run and Create Art for a Cause is licensed under a Creative Commons Attribution-ShareAlike 4.0 International license. Source: https://www.asiafitnesstoday.com/strongcoway-run-2022-united-malaysians-to-run-and-create-art-for-a-cause
Facebook Comments