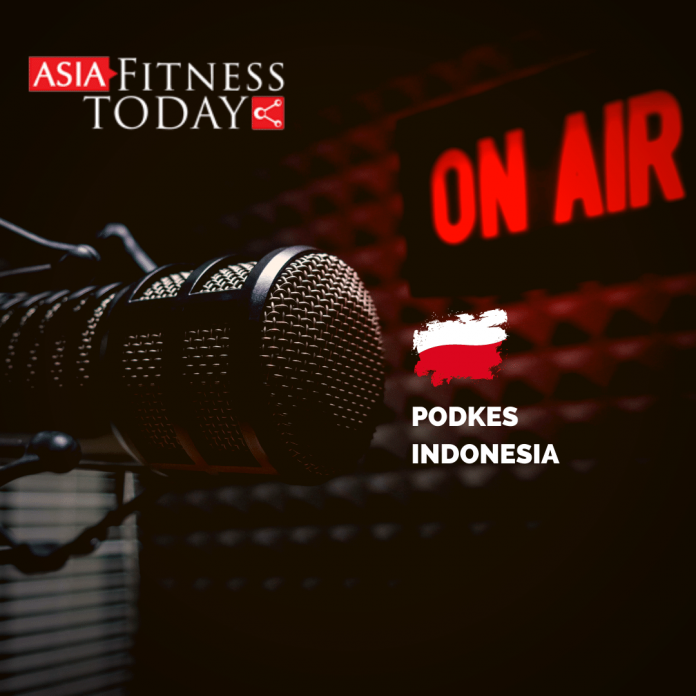 - Affiliate Advertisement -

Every month, team Asia Fitness Today will handpick podcasts from Indonesia relating to health, fitness, wellness and current affairs. Like to recommend us a podcast? Visit us on Facebook and tell us 🙂
Indonesia Sehat
By Indonesia Sehat Institute, obrolan sudut pandang paradigma hidup sehat.
Paradoks Bonus Demografi with Kugy (Full Episode)
–
Indonesia Sehat Podcast
Bonus Demografi yang bisa menjadi bencana demografi — Send in a voice message: https://anchor.fm/indonesiasehat/message Support this podcast: https://anchor.fm/indonesiasehat/support
Podkesmas
Empat pria dengan banyak perbedaan dalam diri mereka, dari perbedaan waktu lahir, perbedaan pasangan hidup, perbedaan saldo rekening, dan juga perbedaan popularitas. Hanya satu yang sama dari mereka, mereka yakin Podcast ini PASTI LUCU DAN BERGELIMANG TAWA!
Four young gentlemen who have totally differing opinions in views as they do in their personalities, choice of partners, account balances even popularity! Only one thing they have in common, and that is – this podcast is funny and will draw lots of laughter!
Podkesmas Ramadhan 30 : Selama bulan Ramadhan di @spotifyasia ada TTU (Tanya Tanya Ustad) Bersama Ustad @AlfieAlfandy kita mencari ilmu, tapi tetap bergelimang tawa karena ada THR (Tebakan Husus Ramadhan), PHP (Pantun Hari Puasa) , PPN (Puasa Puasa Nyenyong) , NgNgNg (Ngobrol Ngobrol Ngerap)
Indonesia, dll.
Podcast about anything you need to know about Indonesia! Hosted by Erin Cook and Hayat Indriyatno. Indonesia, dll. is a production of Gentle Media.
State Owned Enterprise Minister Erick Thohir has had a big start to his tenure. Garuda's woes are only worsening after CEO Ari Askhara is busted after smuggling Harley Davidson parts into the country on a brand-new plane. Now he's set to be pushed out while the board of directors are next. Elsewhere, little to celebrate during this week's World Anti-Corruption Day where President Jokowi snubbed the KPK. But it's not all bad news — Southeast Asia Games, ending in the Philippines this week, has plenty of heart-warming moments.
Box2Box Football Podcast
#70 Bundesliga Kelinci Percobaan Sepakbola Eropa
–
Box2Box Football Podcast
Segala sesuatu yang dipaksakan itu tidaklah baik. Apakah Bundesliga akan berjalan sesuai harapan? Atau malah sebaliknya. Tapi satu yang pasti, selamat datang kembali sepakbola berkualitas!
Java Folklore
Java folklore or dongeng, are stories that come from Indonesian society told by word of mouth since ancient times until today. These stories generally have local wisdom values ​​that are closely related to the occurrence of things such as events, incidents, and so on. This local wisdom is usually reflected in the arts, livelihoods, language, kinship, technology and natural knowledge.
THERE were two girls lived in a palace. There were princess Endahwarni and Anteh. Princess Endahwarni was the daughter of the king and the queen while Anteh was the daughter of the lady-in-waiting. Anteh's mother died while she was a baby. The queen felt sorry to her and raised her like her own child. di bawakan oleh : Shafira Twinsa Diaz — Send in a voice message: https://anchor.fm/javafolklore/message Support this podcast: https://anchor.fm/javafolklore/support
Dummy Podcast Indonesia
Your Weekly "Pep Talks" Buddies. New Episode Every Monday at 9 AM | Powered by NPC Network.
Norman dan Oji berbagai cerita selama 2 minggu awal 2021. Semakin baik atau sebaliknya? email: dummypodcast.id@gmail.com — Support this podcast: https://anchor.fm/dummy-podcast-indonesia/support
Facebook Comments