The Nasi Lemak has been a staple of Malaysian food for years and you can find it almost anywhere in the country, at any time of the day. There have been a few variations of the famous dish but shoes is a new one.
ASICS Malaysia has announced its first-ever foray into the local sneaker scene with a special rendition of the GEL-KAYANO 5 OG, inspired by the Nasi Lemak dish, presented by local multi-label retail store, Hundred% (hundred percent) and Malaysia's biggest sneaker event, SneakerLAH, held on 5 – 6 October 2019.
Giving a local twist to the famed retro silhouette of the GEL-KAYANO 5 OG, it transformed an ordinary sneaker into something close to the hearts of many Malaysians by taking inspiration from the nation's popular dish.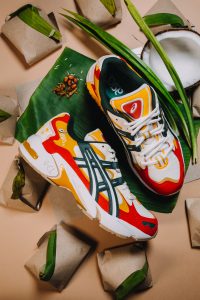 This special edition of the GEL-KAYANO 5 OG design represents the vibrant colours of the Nasi Lemak dish to reflect the unity amongst the diverse cultures in Malaysia. Off-white represents the rice and egg white, while green  signifies cucumber. Red reflects the chilli paste, while yellow takes the form of the yolk. The whole palette is finished off with a hint of brown, reflecting the nuts and anchovies.
"What we love about the shoe colourway re-design is that; it centres around the nasi lemak which is a dish that everyone likes and a societal knot that all Malaysians can relate to and instantly love," said Boon Tib Soom Nik, Country Manager of ASICS Malaysia.
"Through this shoe, we hope to share with everyone that feeling of unity, and to spread the love to all corners of the globe," he added.
The GEL-KAYANO 5 OG 'Nasi Lemak Shoe' was available for purchase at SneakerLAH 2019 for RM599 and had only a limited quantity of 500.
Facebook Comments