Rugby World Cup hosting was a catalyst for national pride growth in Japan, capturing the imagination, growing rugby interest and leaving a positive legacy for the sport, according to a major new study.

Japan 2019, which was won by South Africa, saw the best-ever performance of the Japanese Brave Blossoms as the hosts became the first team from Asia to reach the quarter-finals during a tournament that broke viewership, engagement, match and fan-zone attendance records.
GAME-CHANGING RUGBY WORLD CUP 2019 IS A RECORD-BREAKER >>
Another major endorsement of the significant positive impact of Rugby World Cup as a high return on investment proposition for host nations and unions, the Nielsen Sports DNA study immediately after the tournament determined:

78 per cent of the general public thought that Rugby World Cup hosting in a so-called "non-traditional" rugby market was positive for the future of the sport
46 per cent of the general public thought Rugby World Cup was the most exciting sporting event of 2019 (70 per cent in Japan), compared to 25 per cent who disagreed, demonstrating the value of hosting to international marketing and national pride
The level of Rugby World Cup interest almost doubled from 26 per cent in 2018 to 44 per cent in 2019, representing more than 50 million people
Nine out of 10 people in Japan believed that Rugby World Cup hosting captured the imagination, boosting national pride, excitement and engagement
Nine out of 10 people in Japan got behind the national team on their run to the quarter-finals, reflecting a 33 per cent increase in 'niwaka fans' or new fans during the tournament
83 per cent of people in Japan believe that hosting Rugby World Cup generated a positive legacy for rugby, delivering future major rugby event hosting opportunities for Japan
50 per cent of those in Japan who followed Rugby World Cup had become interested in the sport in the last year, highlighting the significant legacy opportunity for host nations
54 per cent of those in Japan who followed the tournament were doing so for the first time
74 per cent of Japanese who were aware of Rugby World Cup believe that the tournament will encourage more children to play the sport
Almost half the population – a staggering 54.8 million – tuned-in on national free-to-air broadcaster NTV to watch Japan's decisive pool match against Scotland, representing a single market audience record for rugby, while a record 1.2 million people visited fan-zones the length and breadth of the nation.
Another record was set with a 99.3 per cent of available tickets sold across the 45 matches, reinforcing Rugby World Cup as one of the must-see events. More than 400,000 international visitors travelled to Japan, many for the first time, to witness a unique celebration of rugby and Japanese culture.

Importantly, a dedicated partnership between World Rugby, Asia Rugby and the Japan Rugby Football Union saw 2.27 million new participants get into rugby in Asia since 2016 (1.17 million in Japan) through an innovative participation model.
A dual selection process for 2027 and 2031
The research comes as World Rugby prepares to announce details of the host selection process for Rugby World Cup 2027 and 2031.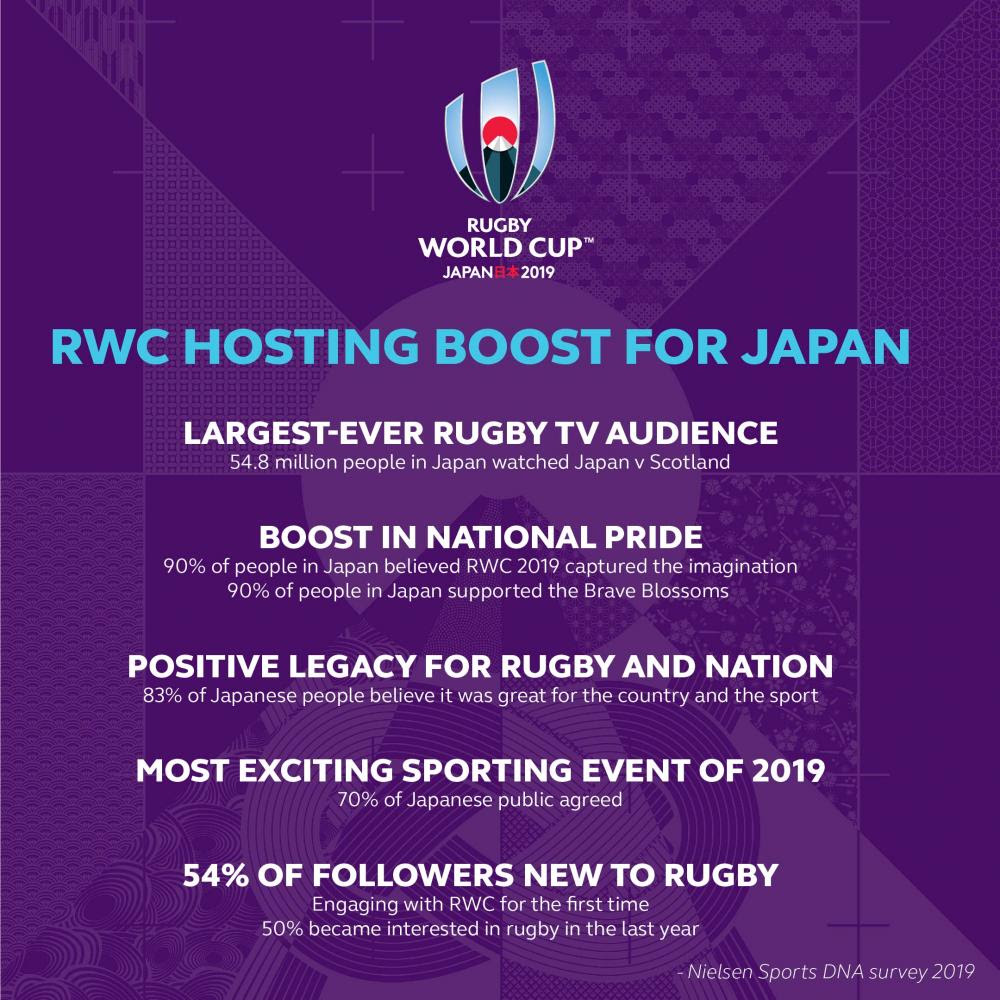 The dual selection process, which will launch later this month, will enable World Rugby to select an optimal combination of hosts, as achieved for England 2015 and Japan 2019. The process will give successful candidates a longer preparation time that will optimise deliver and cost management.

World Rugby Chairman Sir Bill Beaumont said: "We believe that Japan 2019 was one of the great Rugby World Cups and this latest study proves that hosting is of significant value to the host nation.

"Rugby World Cup is not just a six-week world-class sporting event, it is an attraction, a driver of sporting, social and economic growth and a low-investment, high return-on-investment proposition for host nations and host unions.

"Japan was a model of that statement. It maximised the hosting opportunity with full buy-in from national governments, host cities and the wider public. It was a unique shop window for the whole of Japan, its culture, tourism and business."
Facebook Comments